The Technology is Here, and Ready to Electrify Your Boats Now!
Powerful, Ease of Use, Affordable, Reliable, Efficient, Clean, Fun.

A growing number of boat owners favour electric propulsion to power their recreational boats, dinghy, kayakers, tender boats, house boats,fishing boats, catamaran, pontoons and cruisers. Electric motors are quiet, clean, reliable and convenient to run. Electric propulsion makes boating experience very fun and pleasant thanks to the ease of use, absence of engine noise, gas fumes and vibrations, and the bilge stays nice and clean with no oil or grease fouling the timber. Batteries offer the option of recharging with renewable energy (solar and wind) making a boat potentially energy independent. With 90% fewer moving parts there is little that can wear out or break down, making electric motors a reliable and viable option for small boats. EZ outboards are pure electric propulsion, focused on 20hp or lower power electric motors which require less battery capacity and more affordable for boat owners. The products are well engineered for maximum safety and virtually maintenance free.



Golden Motor has been a leading manufacturer of high power BLDC motors and controllers for more than ten years. These are core components to make electric propulsion outboards. We had started conversion of used gasoline outboards to electric version by replacing combustion engines with BLDC motors about seven years ago. We have gained in-depth experience and knowledge about gasoline outboards from this conversion business, and learnt its pros and cons. In the end, we decided to completely re-design electric propel outboards to address the issues and weakness areas we found from existing gasoline powered motors, and to best make use of advantages of our high efficiency (>90%) and durable (>20000 hours of working life) BLDC motors. The idea is to help the environment, cut down on noise and save heaps of money in maintenance. Boats with electric propulsion outboards can sit all winter and won't require winterization and oil changes, no maintenance or only minimum maintenance is required.



(E for Electric Propulsion, Z for Zero Pollution, EZ also for Ease of Use) is our new brand name for our innovative design electric propulsion outboards (international patented). Its gear-less and shaft-less design makes it very unique, quiet, reliable, efficient and less vibration. The new designs also take consideration of compatibility of installation, teleflex remote control and exchangeable propellers with conventional gasoline outboards. The BLDC motors and controllers are optimally engineered for electric outboards use with motor speeds (2000rpm-2800rpm) matching to common propellers without speed reduction gears, so you can get the same boat speeds as by gasoline outboards with similar horse powers. There is no more long shaft and short shaft differences, as EZ outboard products are user adjustable in transom length to cater for different boat installations, or boat loads which may change from time to time. This feature makes boat builders, owners and outboard dealer's life much easier, no more confusion on shaft lengths, no more excessive stock for long, medium and short shaft outboards! The motor controllers are programmable via computers or smartphones to setup speed limit, maximum current, lower voltage limit as you desire to meet your needs and local authority's regulations, whether 9.9hp or 10hp, you can program it! Its real performance and rich features will be beyond your expectation.

We come up two series of pure electric outboard product: one we called Sports and Commercial Series for those customers who want to get the similar boat speeds as drived by gasoline outboards, the propeller speeds are between 2500-2800rpm; another we called Leisure Series for those who want slower boat speeds, larger thrust force and less batteries required, very light in weight(15kgs - 22kgs) for easy hand carry and quick setup (30 seconds only), their propeller speeds are between 1200-1600rpm. Both series electric outboards are equiped with our patented brushless and gearless drive motors, direct drive without speed reduction from motor to propeller, highest reliability and energy efficiency guaranteed.
Learn to Operate It in Minutes! Simple and Smooth Control Assured.
Buy One EZ Outboard to Serve Multiple Purposes: Sporting, Cruising Around, Fishing Trolling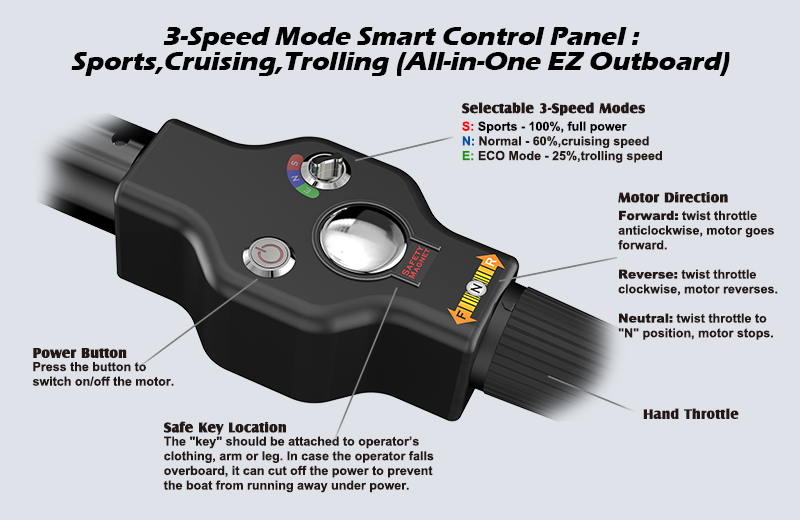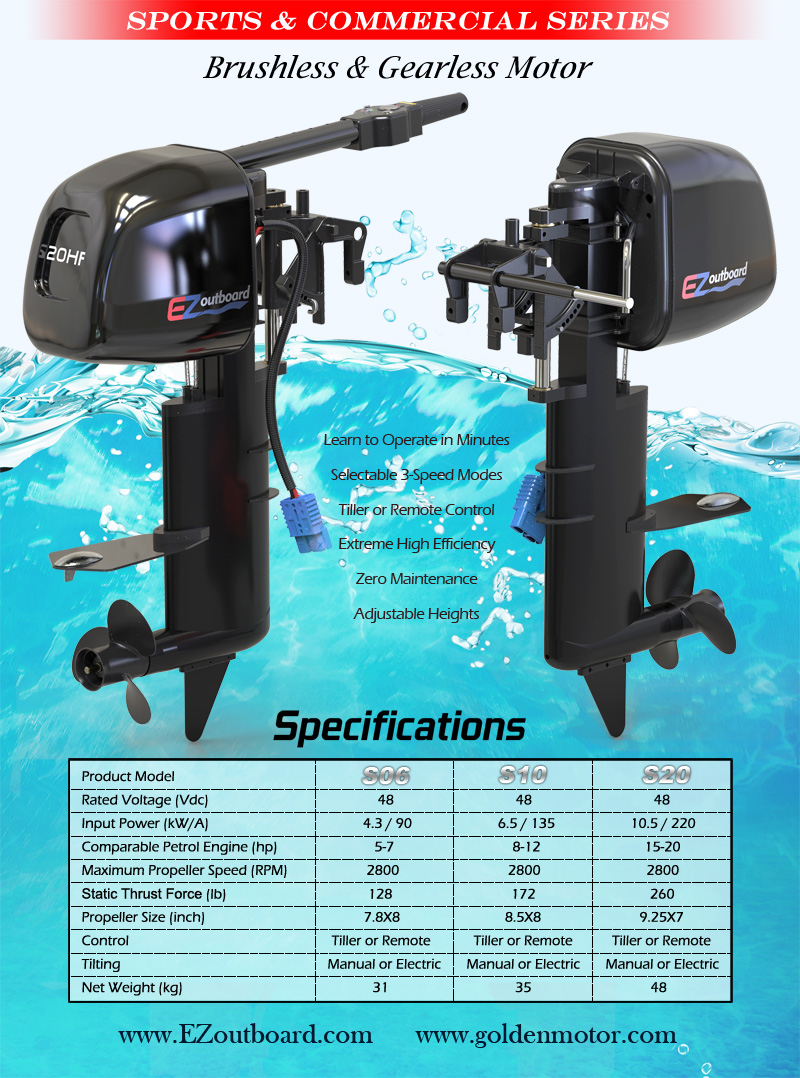 View EZ Outboards in ACTION!


Ultralight, Incredible Thrust Force, Portable Electric Outboards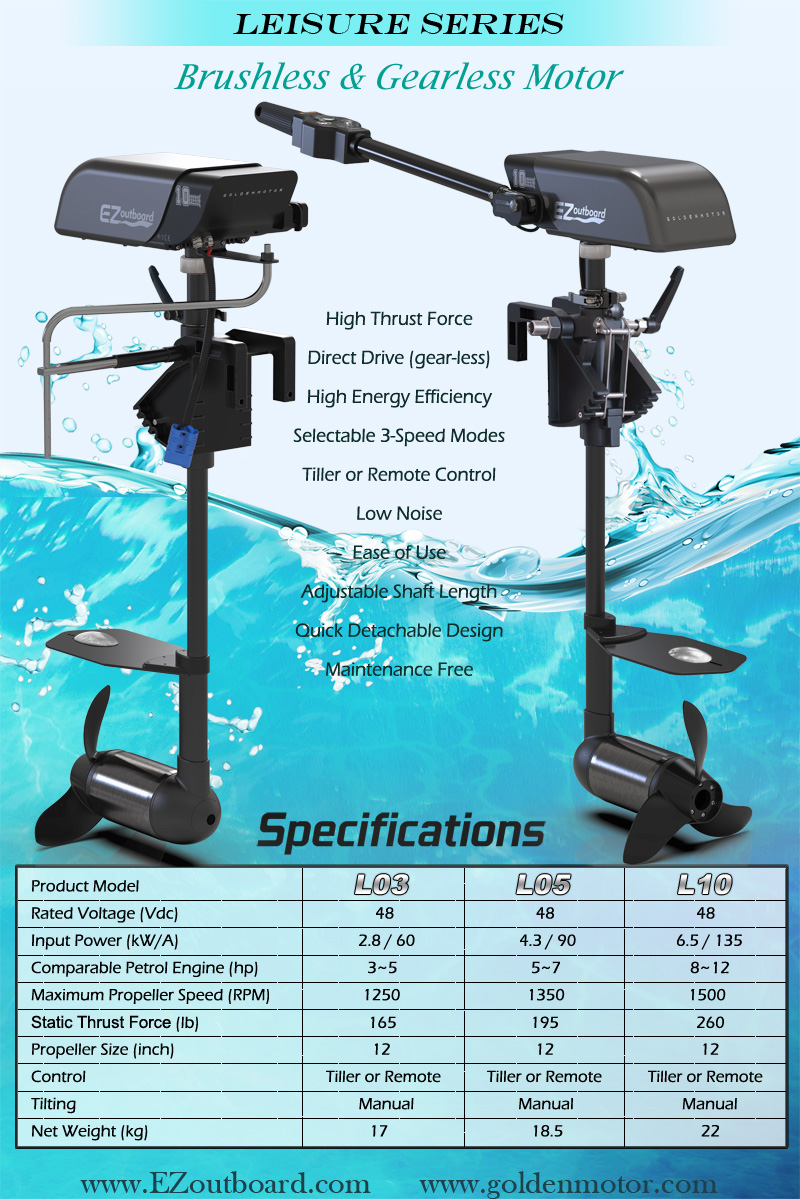 Take less than 30 Seconds to Setup Outboard and You Go!


You can always find a suitable EZ outboard for your electric boat!
Sports Series are for speed boating experience as gasoline outboards do.
Leisure Series are for fun and relax boating with less battery required.
Electric Propulsion Outboards at Affordable Prices
S06T
6hp (Tiller Controller)
$2580
S06R
6hp (Remote Controller)
$2580
S10T
10hp (Tiller Controller)
$2990
S10R
10hp (Remote Controller)
$2990
S20T
15-20hp (Tiller Controller)
$4580
S20R
15-20hp (Remote Controller)
$4580
Return Policy Detail

Note: battery pack and charger are excluded.
Weight: 6hp: 31kg(N.W.)/39kg(G.W.); 10hp: 35kg(N.W.)/49kg(G.W.); 15/20hp: 48kg(N.W.)/55kg(G.W)
How do I determine the capacity of the battery pack needed?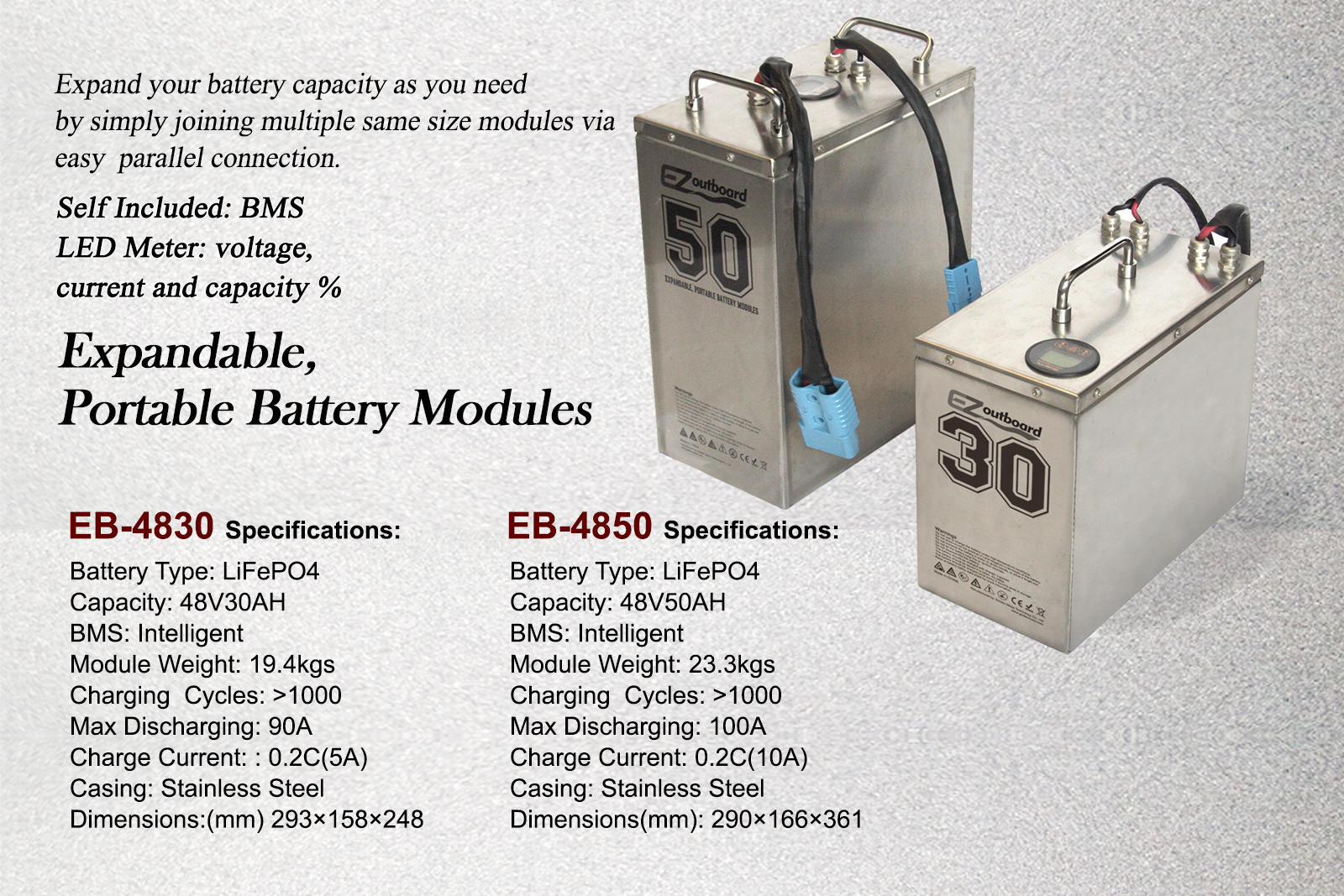 Battery is the new form of "fuel" for electric propulsion outboards, you never need to go to gasoline station to refuel your outboard anymore. You only need to recharge your batteries at home or docking place.
Once you've chosen an electric outboard that properly fits the weight and efficiency of your loaded boat, the next task is to size the battery bank that will store the energy to drive it. The size of the battery bank will depend on the amp draw you plan to regularly place upon it and the range of miles you desire to travel. It is not easy to know the current draw before you try it as each boat is diffrent from others in hull shape, length, load, speed and daily operation hour you want, not like electric cars which is fixed for each car model in factory. Our expandable battery modules will make your life much easier to determine how big the battery bank you need to meet your purpose. You can just invest one battery module first to test boat performance with electric propel outboard and find out accurate amp draw for your special boat setup in diffrent speed. After initial boat trial testing, then you can easily figure out how many such battery modules required to get the boat speed and travel duration you want. You can easily parallel connect multiple expandable battery modules to form a larger capacity battery bank. Each battery module is light weight for one person to carry around. You can always buy more standalone modules as you need them. Each module has its own battery management system (BMS) and charger. We have developed 3 models of battery modules for diffrent user purposes and different electric outboards, 48V20AH,48V30AH and 48V50AH. Their features and functions are basically same except they have different capacities. All have its built-in LED meter display and support blue-tooth connection to Android smart phones. There is free downloadable App to show dynamic battery information, like voltage, current drawn, capacity remaining, internal temerature and GPS speed of boat.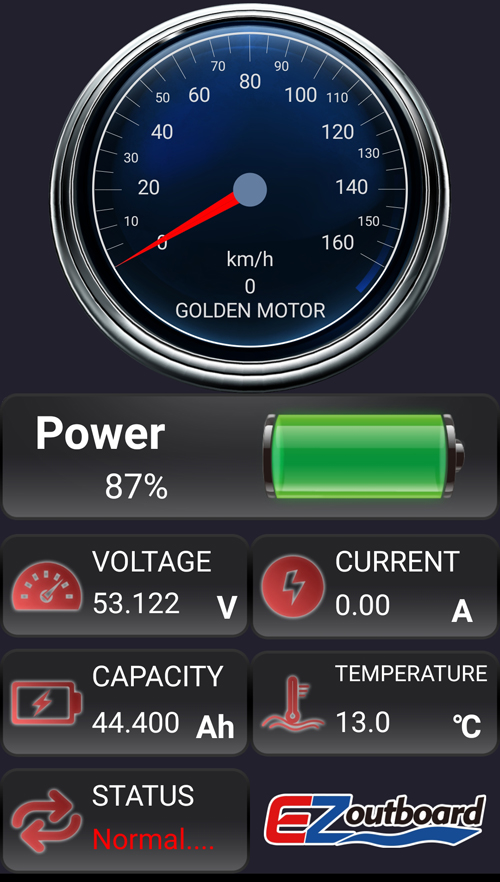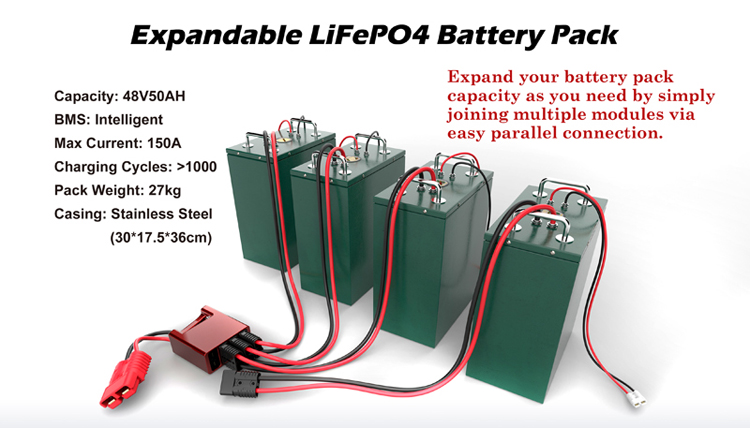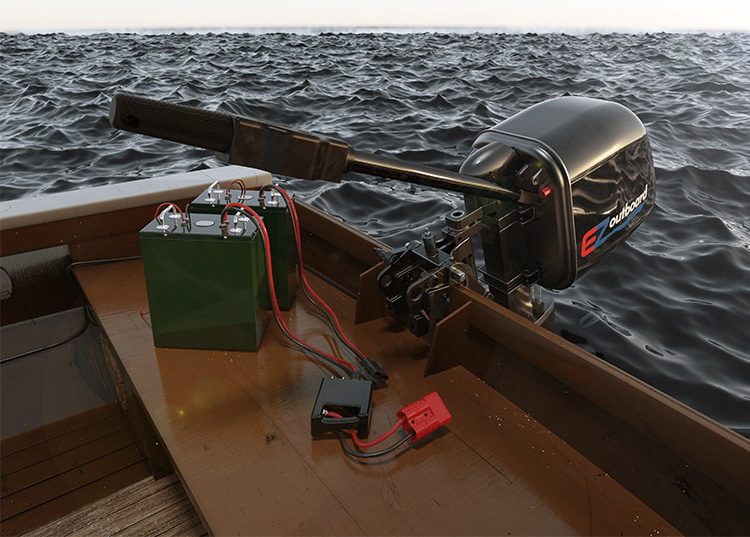 We choose the most safe LiFePO4 battery cells for our expanable battery modules, the materials used inside cell will not cause any fire or explosion. The quality of cell is very consistent and can last more than 2000 charging cycles. Its C-rating is 3 times, that means a single 48V50AH module can output 150A continuosly. That's why you can buy just one or two battery modules first, to test the outboard motor performance and get amperage to calculate before you know the exact battery capacity you need.
For example, your trial boat testing shows you the motor current drawn from battery module is around 65A, if you need to operate your boat for 3 hours, then you need 65A*3H=195Ah battery capacity to meet your minimum requirements, this tells that you have to buy 4 sets of 48V50AH (4*50Ah=200Ah) battery modules all together.
Why we choose 48V system for outboard motor and battery pack, because it is safe for human and easy to pass local government safety regulations.
Of course, you can always buy other type of batteries from third party suppliers you can find locally, as long as its output voltage is 48V, and capacity is enough to drive the electric outboards.
Buy Accessories for Teleflex/Remote Control:
Teleflex Cabling Set, Stainless Steering Wheel, Remote Control Joystick Set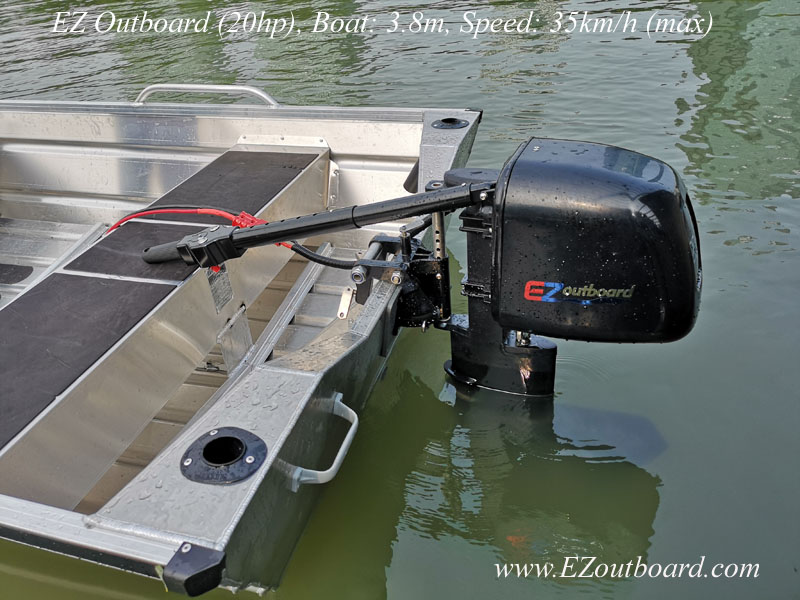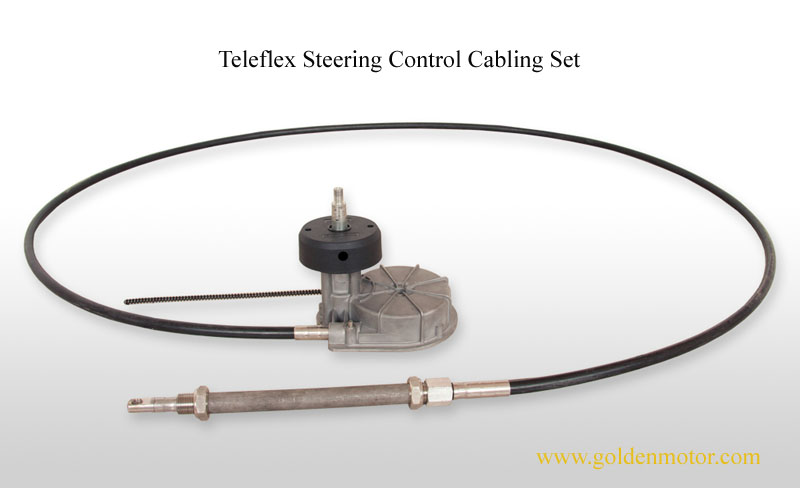 TRC-010
Joystick Throttle Set:
$258
TRC-020
Stainless Steering Wheel:
$155
TRC-030
Teleflex Cabling Set (3.0m):
$219
TRC-030
Teleflex Cabling Set (4.0m):
$229
TRC-030
Teleflex Cabling Set (5.0m):
$239
TRC-030
Teleflex Cabling Set (6.0m):
$249
TRC-030
Teleflex Cabling Set (7.0m):
$259
TRC-030
Teleflex Cabling Set (8.0m):
$269
TRC-030
Teleflex Cabling Set (9.0m):
$279