High Performance Electric Motorcycles and Drive Kits

Clean, Quiet, Efficient, Reliable, Light Weight, Compact, and Monstrous Powerful!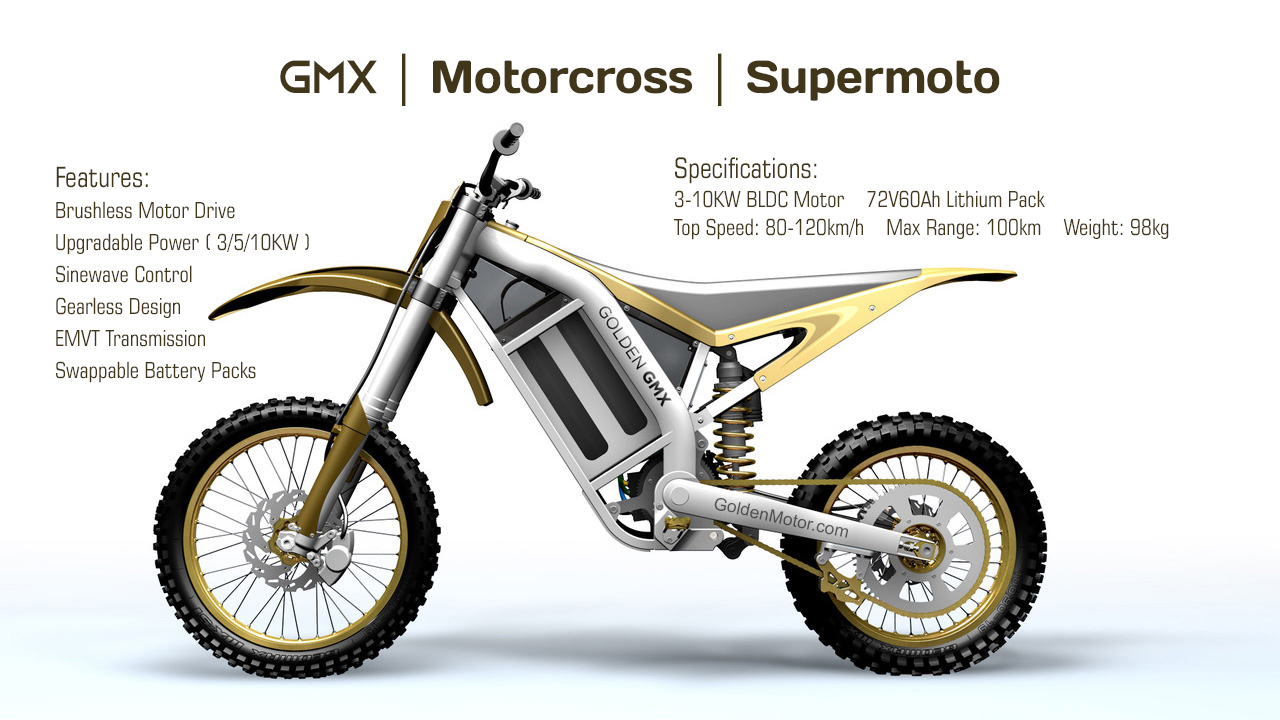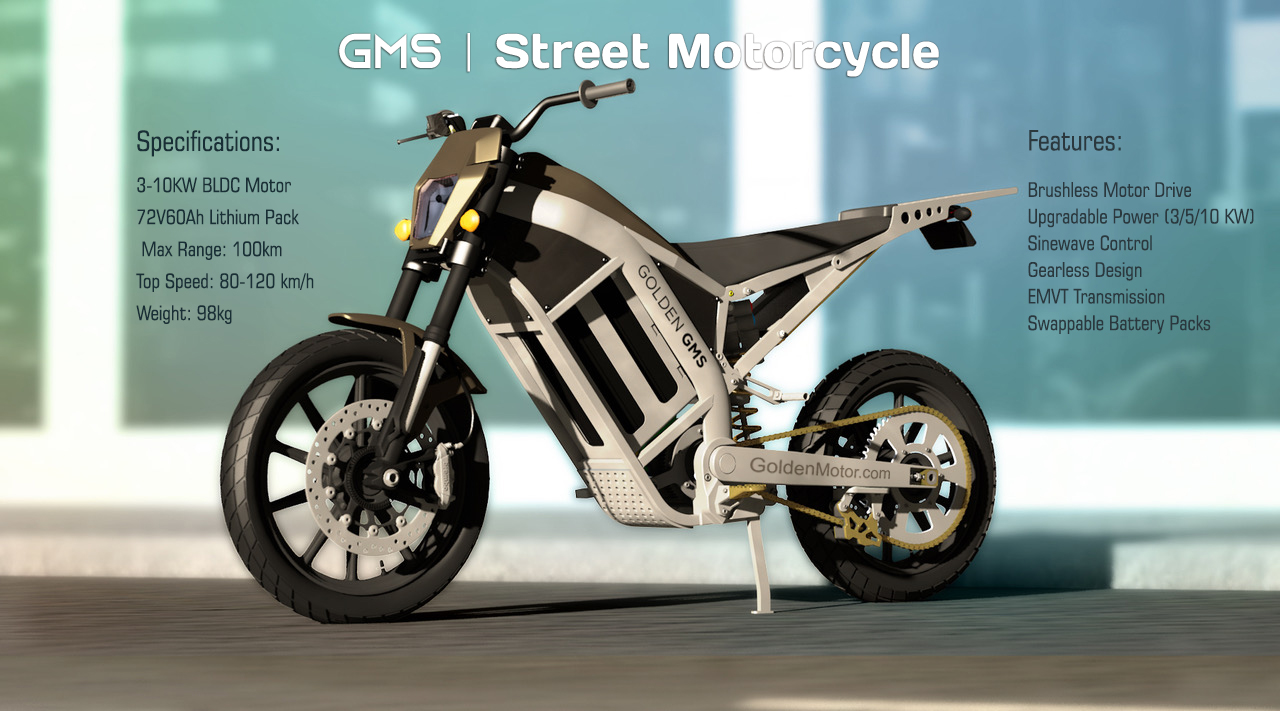 Golden Motor has been a leading manufacturer of high power BLDC motors and controllers for more than 12 years. Electric drive motors are core components to make high quality electric motorcycles. We have gained in-depth experience and knowledge about gasoline motorcycles, and learnt its pros and cons. Our product designs are to utilize existing proven gasoline motorcycle parts, as many as possible, to save the manufacturing cost and time to the rapid growing EV market, and take advantages of our high efficiency (>90%) and reliable (>20000 hours of working life) BLDC drive motors.

We are looking for qualified distributors in each country or region, who can market our products and service customers locally. They can have their own brands if prefer. We are very interested in partnership with existing gasoline motorcycle manufacturers to whom we can provide complete solution kits for them to start electric motorcycle business quick and easy. They can even use their own motorcycle parts if they fit, develop their own battery packs locally to save shipping costs.

The potential of electric motorcycle market size is huge as battery technology advancing and cost getting down in recent years. With impeccable timing, amazing products, kick start your simple profitable business safely. Choose Golden Motor, the real leader in personal EV industry. Take your leading position today before it gets filled!


Demo Videos (3KW BLDC Motor, Max Speed:88km/h, Battery: 72V40AH Lithium, Range: 80km)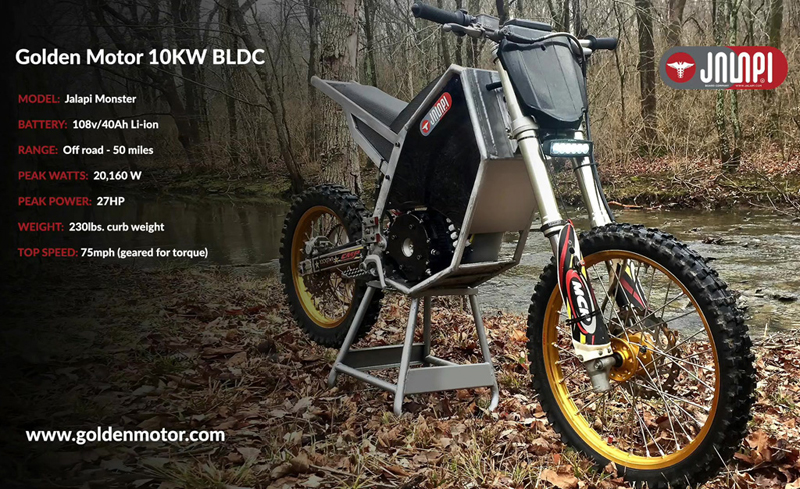 Demo Videos (10KW BLDC Motor, Max Speed:120km/h, Battery: 96V40AH Lithium, Range: 80km)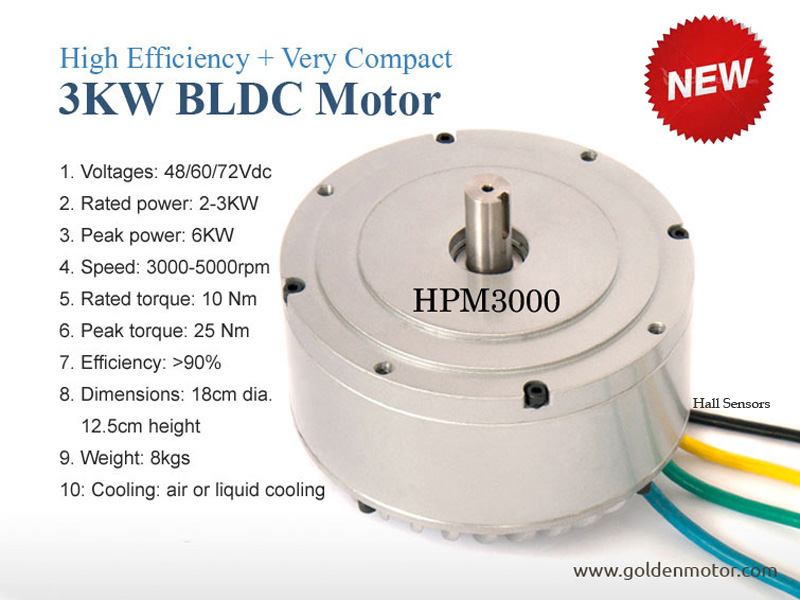 ---
Key Components for Electric Motorcycle Conversions
10KW Brushless Motor -- Drive you motorbike up to 100mph!
CE Certified BLDC Motors by SGS!
Motor and Controller Wiring Diagrams (.jpg format):

3D Motor Drawings( .IGS format):

Motor Drawings(.PDF format):

Motor Performance Testing Reports:

3KW BLDC Motor
3KW Fan Cooling
3KW Liquid Cooling

Buy Now
Buy Now
Detailed parameters
Application Sample

Model: HPM3000B -- High Power BLDC Motor
1. Voltages: 48/72V
2. Rated power: 2-3KW
3. Peak power: 6KW
4. Speed: 3000-5000rpm
5. Rated torque: 10 Nm
6. Peak torque: 25 Nm
7. Efficiency: >90%
8. Dimensions: 18cm dia. 12.5cm height
9. Weight: 8kgs
10. Cooling: air or liquid cooling
HPM3000 (3KW) Motor Performance Data (48V) (.PDF)

3KW BLDC Motor Controller
Buy
Detailed parameters
5KW BLDC Motor
5KW Fan Cooling
5KW Liquid Cooling

Buy Now
Buy Now
Detailed parameters
Application Sample

Model: HPM5000B -- High Power BLDC Motor
Voltage:48V/72V/96V/120V
Rated Power:3KW-7.5KW
Efficeincy: 91%
Phase Resistance (Milliohm): 6.2/48V; 12.0/72V; 36.0/120V
Phase Induction(100KHZ): 68uH/48V; 154uH/72V; 504uH/120v Speed: 2000-6000rpm (customizable)
Weight:11Kgs Casing: Aluminium
Length (height): 126mm Diameter: 206mm
Keyway size: 5mm(W) x 43mm(L) x 19mm(D:22.3mm)
Features: Compact design,Water resistent, Stainless Steel Shaft, Self Cooling Fan
Applications: Electric car, electric motorcycle, electric tricycle, electric golf carts, fork lift, electric boat, etc.
Drive Motor Kit Typical Setup(.jpg) Drawing(.pdf)3D View
Curve (96V) Data (96V) Curve (72V) Data (72V) Curve (48V) Data (48V)

5KW BLDC Motor Controller
Buy
Detailed parameters
20KW BLDC Motor
20KW Liquid Cooling

Buy Now

Detailed parameters
Application Sample
Most robust and reliable brushless motor controllers for electric cars, motorcycles, and motorboats.


Model: CA-201 -- HPC Controller Wiring Harness
23-pin Water-Resistent Connector
Dynamic Montoring Connector



Buy Now ($30)

Model: PI-400 -- HPC Controller Programming Kit
Easy Installation for PC/laptop with Windows OS
Easy USB Port Connection
Setup Parameters without Power-on Controller
Monitor Motor Performance Dynamically

Buy Now ($80)

---

High Capacity LiFePO4 Battery Pack for Electric Motorcycles

Product Model: LFP4820M Weight: 12Kgs
Capacity: 48V/20AH
Dimensions: 150*150*300mm
Max Discharge Current: 60A
Max Continuous Discharge Current: 40A
Charging Cycles: >1000 times

Product Model: LFP4830M
Weight: 18Kgs
Capacity: 48V/30AH
Dimensions: 180*190*320mm
Max Discharge Current: 90A
Max Continuous Discharge Current: 60A
Charging Cycles: >1000 times



LFP-4820 48V/20AH
$655/set

...Credit cards

via PayPal...

LFP4830M 48V/30AH
$890/set

...Credit cards

via PayPal...

Compact LiFePO4 Battery Cells (3.2V), Aluminium Casing



www.goldenmotor.com