Super Motocross with Minimalism Design, Swappable Battery, DIY-capable

Clean, Efficient, Reliable, Monstrous Powerful and Self Upgradeable!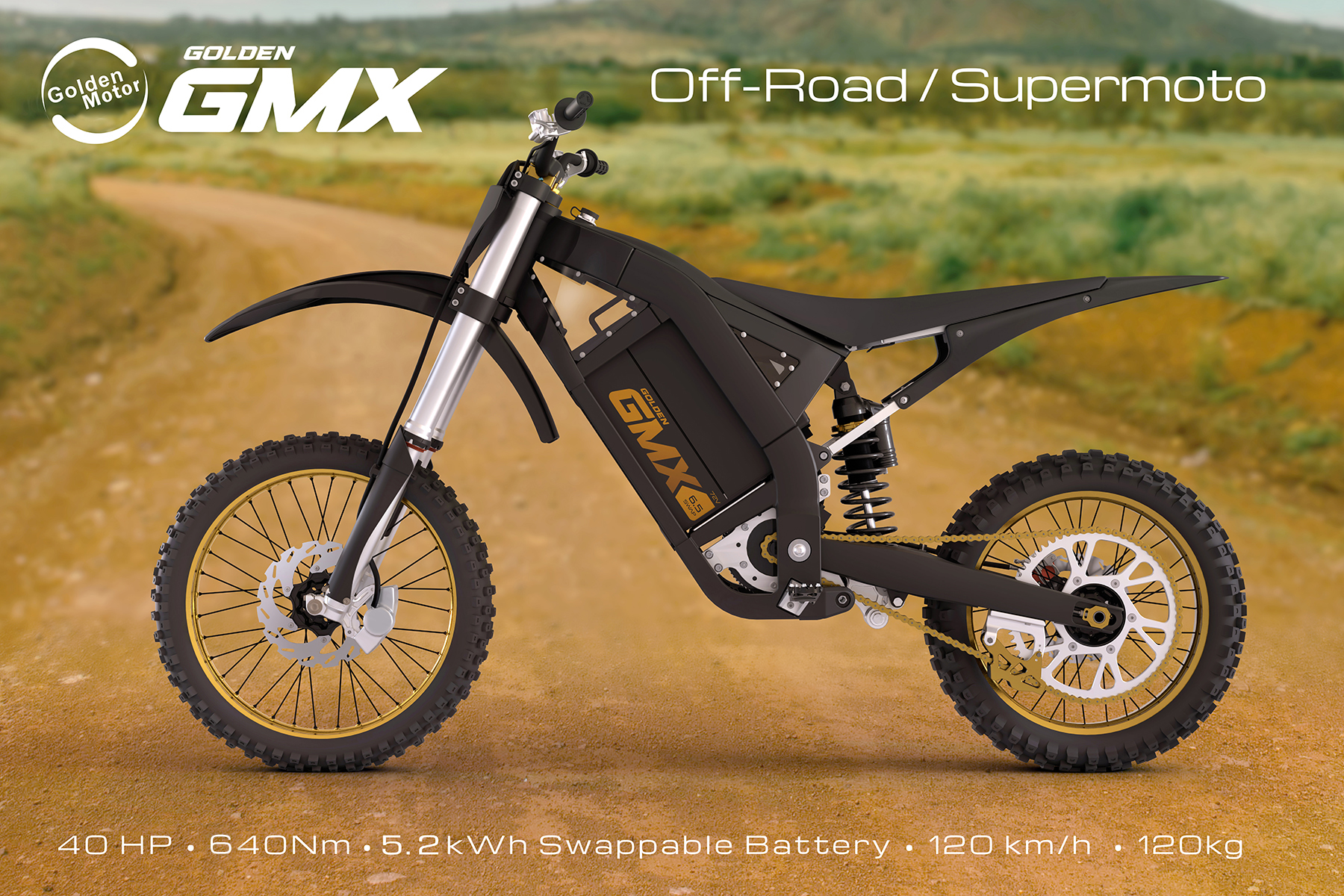 Golden Motor has been a leading manufacturer of high power BLDC motors and controllers for more than 12 years. Electric drive motors are key components to make high performance and reliable electric motorcycles. Our design goals are to make bikes pretty simple with minimum number of components, utilize existing gasoline motorcycle parts commonly availabe in market, to save the manufacturing cost and aftersales maintenance cost.




eXtreme Torque Motor - Peak power 150Nm/30KW without gear, up to 4100rpm, 17kg only!



Introducing the All-New GMX Electric Motorcycle: Experience Power, Simplicity, and Convenience Like Never Before!

We are excited to introduce our newest creation - a high speed electric motorcycle that is unlike anything you've ever seen before. Featuring a minimalist clean design, monstrous powerful motor, sturdy aluminum chassis, quick swappable battery, DIY-capable. This motorcycle is truly the future of transportation.

We know that as a motorcycle enthusiast, you demand the best in both performance and style, and that's exactly what we've delivered with our GMX electric motorcycle. With a sleek and streamlined design that's both aesthetically pleasing and functional, our motorcycle is sure to turn heads wherever you go.

But that's not all - our motorcycle is also incredibly practical and easy to use. With its swappable battery system, you can easily switch out your battery when it runs low, without having to worry about finding a charging station. And if you're a DIY enthusiast, you'll love the fact that our motorcycle is designed to be completely maintenance-free, meaning you can keep it in top condition with just a few simple tools.

And of course, we can't forget to mention the heart of our motorcycle - our unique high torque and efficiency axial flux motor. This state-of-the-art motor delivers unparalleled performance and efficiency, making it a beast with power.

Key Features of the GMX Electric Motorcycle:


High-Torque Motor: Power through every terrain with ease, thanks to our state-of-the-art electric motor that delivers exceptional torque and acceleration. Experience thrilling performance without sacrificing efficiency or eco-friendliness.


Simple, Sleek,燝earless燚esign:燭he GMX Electric Motorcycle features a minimalist design that eliminates unnecessary complexity. With fewer moving parts and an easy-to-maintain structure, this motorcycle is perfect for DIY enthusiasts and riders who value simplicity and reliability. With爄ts爁uturistic燼ppeal燼nd燾utting-edge爐echnology,爐he燝MX爄s爏ure爐o燼ttract燼ttention燼nd爂enerate爀xcitement燼mong爌otential燽uyers.


Direct Chain Power Transmission: For high-speed motorcycles where maximizing power transfer, durability, and performance are paramount, chain transmissions are often preferred. Chain transmissions generally have higher power transfer efficiency compared to belt transmissions. Chains are relatively easy to maintain and replace when necessary. Chain transmissions tend to be more durable and capable of withstanding higher torque loads. Riders can easily change front and rear sprokets to get desired motorbike speed and wheel torque they want.


Quick Swappable Battery Pack: Never worry about running out of power on your adventures again. Our innovative quick-swappable battery pack allows you to instantly replace a depleted battery with a fully charged one in less than one minute, ensuring that you can keep riding without any downtime.

We are looking for qualified distributors in each country or region, who can market our products and service customers locally. They can have their own brands if prefer. We are very interested in partnership with existing gasoline motorcycle manufacturers to whom we can provide complete solution kits for them to start electric motorcycle business quick and easy. They can even use their own motorcycle parts if they fit, develop their own battery packs locally to save shipping costs.

The potential of electric motorcycle market size is huge as battery technology advancing and cost getting down in recent years. With impeccable timing, amazing products, kick start your simple profitable business safely. Choose Golden Motor, the real leader in personal EV industry. Take your leading position today before it gets filled!


Track Testing in Florida, USA
(10KW BLDC Motor, Max Speed:120km/h, Battery: 72V60AH Lithium, Range: 100km)