Powerful, Efficient and Reliable BLDC Motors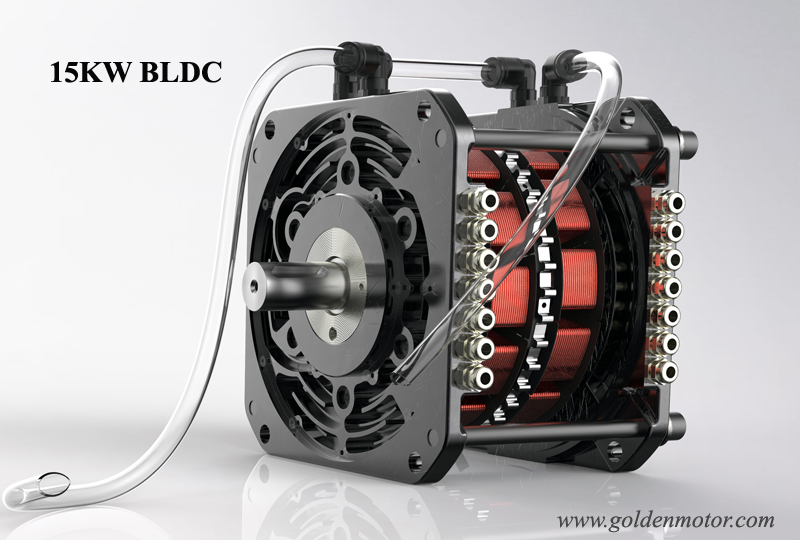 We are leading manufacturer of general-purpose brushless dc (BLDC) motors with power range from 200W to 20KW, and the voltage range from 24V to 120V DC. It has been widely used for many applications, eg., auto industry, battery powered bikes, scooters, electric cars, forklifts, golf buggies, boats etc. It has better performances than other traditional dc motors.
Product Features:
Long working life (>20,000 hours)
Low noise, high torque
Excellent performance characteristics
High efficiency (>90%)
High reliability

Rated voltage : 24-120 VDC
Rated power : 200W-20,000W
Rated speed: 2000-6000 rpm
Cooling Options: Fan or Liquid
Temperature Sensor Installed: KTY84-130 (.PDF)
Stepless speed control, dual-direction
<![if !supportLineBreakNewLine]>
<![endif]>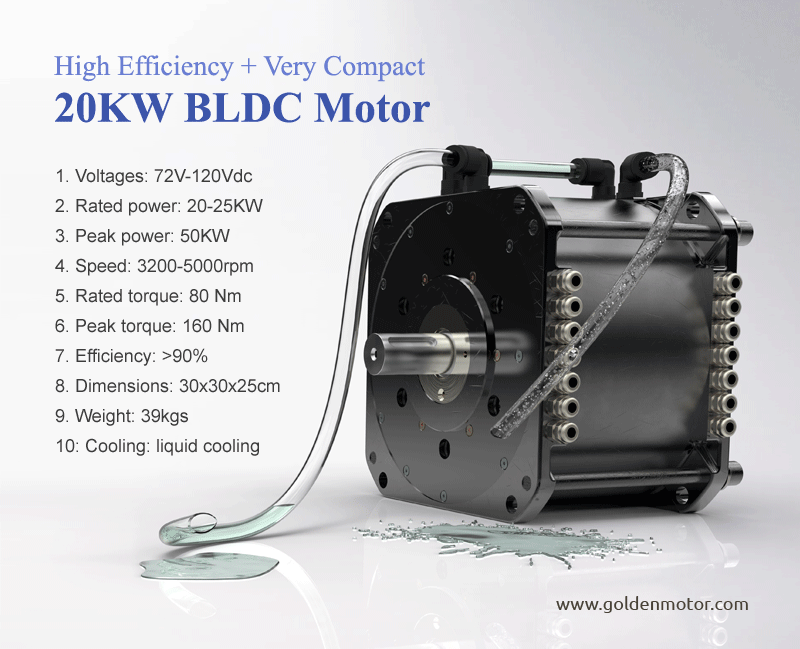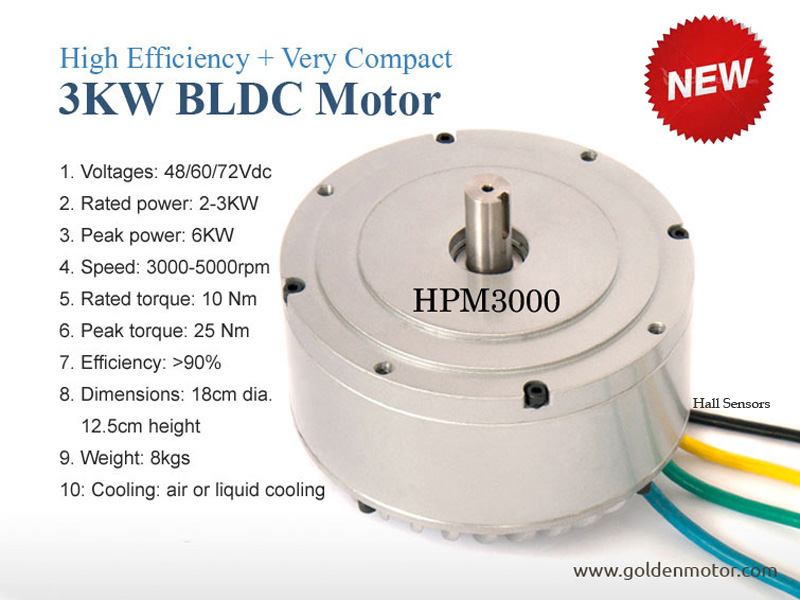 ---
CE Certified BLDC Motors by SGS!


HPM10K (10KW) CE Certificate HPM10K (10KW) CE-EMC Report
HPM5000 (5KW) CE Certificate HPM5000 (5KW) CE-EMC Report
HPM3000 (3KW) CE Certificate HPM3000 (3KW) CE-EMC Report

Motor and Controller Wiring Diagrams (.jpg format):
HPM3000/HPM5000 Motor Wiring HPM3000/HPM5000 Motor+Controller Wiring HPM10KW Motor Wiring HPM10KW Motor+Controller Wiring HPM20KW Motor Wiring HPM20KW Motor+Controller Wiring

3D Motor Drawings( .STEP format): Please use Google Chrome to download if IE does not work.
HPM3000B Fan-Cooling HPM3000L Liquid-Cooling HPM5000B Fan-Cooling HPM5000L Liquid-Cooling HPM10KW Fan-Cooling HPM10KW Liquid-Cooling HPM20KW Liquid-Cooling

Motor Drawings(.PDF format):
HPM3000B Fan-Cooling HPM3000L Liquid-Cooling HPM5000B Fan-Cooling HPM5000L Liquid-Cooling
HPM10KW Fan-Cooling HPM10KW Liquid-Cooling HPM20KW Liquid-Cooling





5KW BLDC Motor
5KW Fan Cooling
5KW Liquid Cooling

Buy Now
Buy Now
Detailed parameters
Application Sample

Model: HPM5000B -- High Power BLDC Motor

Voltage:48V/72V/96V/120V

Rated Power:3KW-7.5KW

Efficeincy: 91%

Phase Resistance (Milliohm): 6.2/48V; 12.0/72V; 36.0/120V

Phase Induction(100KHZ): 68uH/48V; 154uH/72V; 504uH/120v Speed: 2000-6000rpm (customizable)

Weight:11Kg(air),11.35kg(water); Casing: Aluminium

Length (height): 126mm Diameter: 206mm

Keyway size: 5mm(W) x 43mm(L) x 19mm(D:22.3mm)

Features: Compact design,Water resistent, Stainless Steel Shaft, Self Cooling Fan

Applications: Electric car, electric motorcycle, electric tricycle, electric golf carts, fork lift, electric boat, etc.

.

Drive Motor Kit Typical Setup(.jpg) Drawing(.pdf)3D View Curve (96V) Data (96V) Curve (72V) Data (72V) Curve (48V) Data (48V)

5KW BLDC Motor Controller
Buy
Detailed parameters
10KW BLDC Motor
10KW Fan Cooling
10KW Liquid Cooling

Buy Now
Buy Now
Detailed parameters
Application Sample

Model: HPM-10KW -- High Power BLDC Motor

Voltage:48V/72V/96V/120V

Rated Power:8KW-20KW

Efficeincy: 91%

Phase Resistance (Milliohm): 3.1/48V; 6.0/72V; 18.0/120V

Phase Induction(100KHZ): 34uH/48V; 77uH/72V; 252uH/120v

Speed: 2000-6000rpm (customizable)

Weight:17Kg(air),17.7kg(water); Casing: Aluminium

Length (height): 170mm Diameter: 206mm

Keyway size: 6.4mm(W) x 45mm(L) x 21.7mm(D:25.4mm)

Curve (96V) Data (96V) Curve (72V) Data (72V) Curve (48V) Data (48V) Drive Motor Kit Typical Setup(.jpg)

10KW BLDC Motor Controller
Buy
Detailed parameters
Sample Electric Drive System Setup ( for illustration purpose )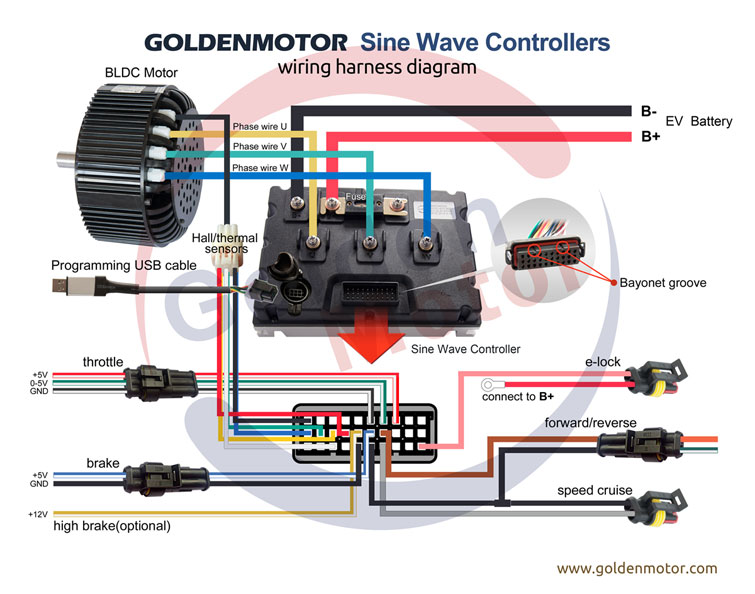 Accessories
Model
Detailed parameters
Buy

Model: PI-400/VEC -- FOC Controller Programming Kit
Easy Installation for PC/laptop Easy USB Port Connection

Model: CA-201 -- HPC Controller Wiring Harness
23-pin Water-Resistent Connector

Dynamic Montoring Connector

Model: PI-400 -- HPC Controller Programming Kit
Easy Installation for PC/laptop with Windows OS
Easy USB Port Connection
Setup Parameters without Power-on Controller
Monitor Motor Performance Dynamically


Model: FSC-010 -- Foot Throttle
Output Voltage: 0-5V
Material: casted aluminium
Weight:0.9Kgs
Features: Water resistent


Model: PI-405 -- MagicPie-4/SmartPie-4 Programming Kit
Easy Installation for PC/laptop
Easy USB Port Connection

Model: PI-300I -- HPC Controller Programming Kit

MagicPie-3/SmartPie-3 Programming Interface

Device




Model: PI-0200E --- for external controller
Cruise Controller(brushless) Programming Interfaces(to PC USB port)


Click to see programming user interface screen





Download Parameter Setting Software for PC Windows XP(PD_282_speed.rar, 276KB)

Special Features:

Programmable via PC to setup motor control parameters
Motor hall sensor failure redundency (Automatically switch to sensorless control)
Anti-theft alarm and wheel-locking by detection of vibration
True regenerative braking (only effective when you squeeze the hand brake)
Other failures redundency (Work with failed throttle and power breaker)
Work with multiple voltages: 24V, 36V and 48V with the same controller
Report failure components by beeps
Motor phase self detection and calibration
Support Forward and Reverse Control
Excessive Current Protection
Low Voltage Protection
High Reliability