Best Controllers for your Personal Electric Vehicles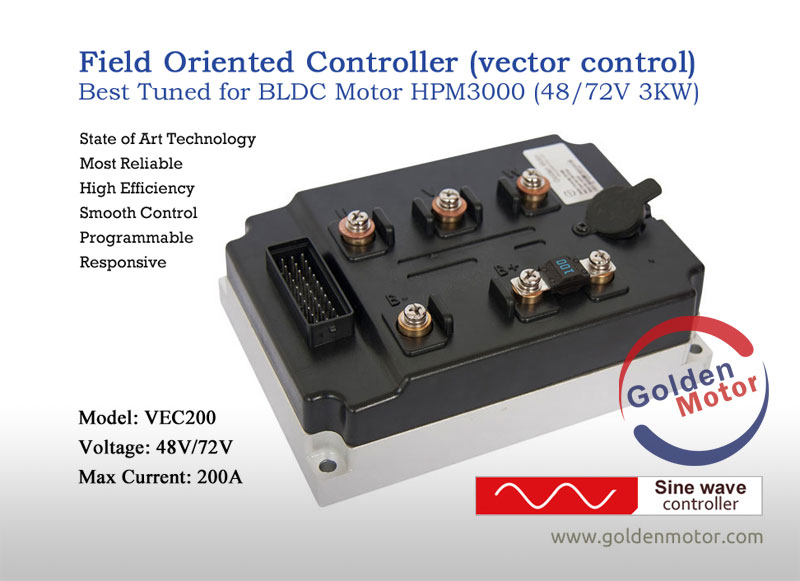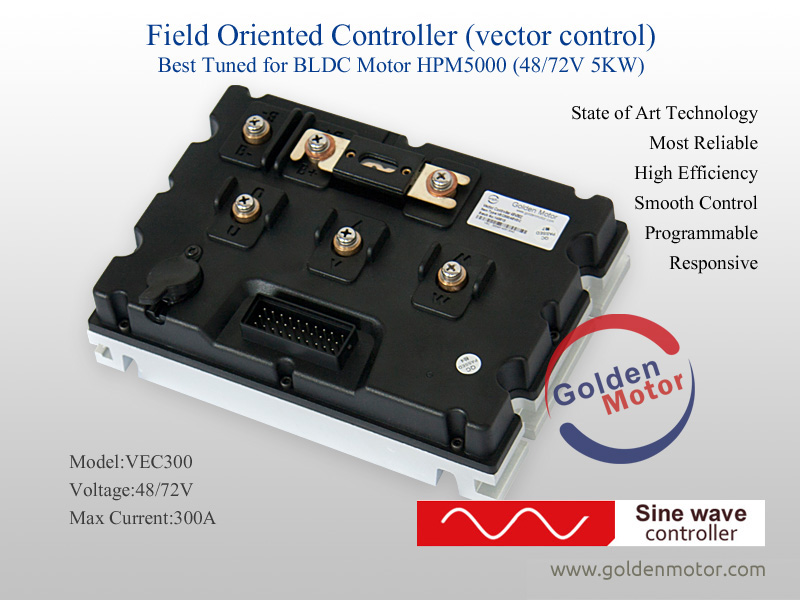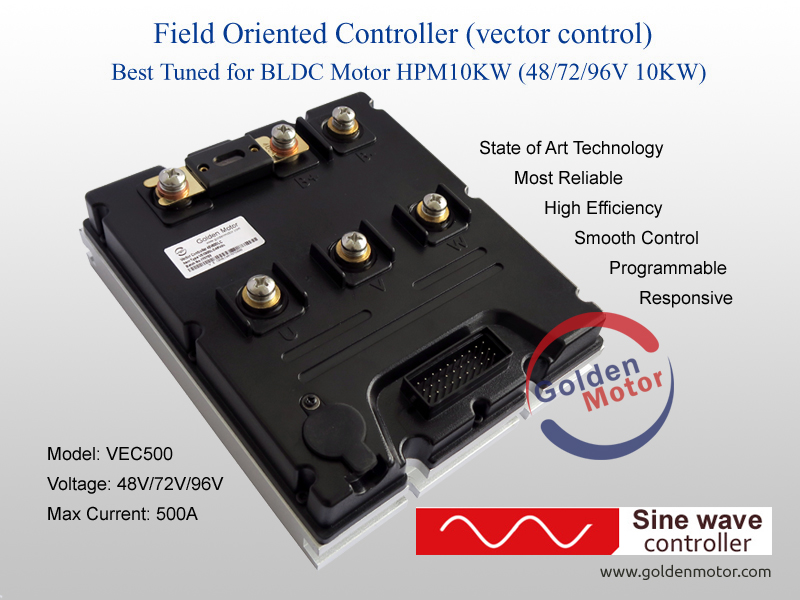 Model
Rated Voltage
Rated Current
Max Phase Current
Dimensions L*W*H
Weight
Price
Buy
VEC300-48
48V
120A
300A
190*180*50mm (2.5kg)

USD452

VEC300-72
72V
100A
300A
190*180*50mm (2.5kg)

USD452

VEC500-48
48V
200A
500A
200*190*58mm (3.2kg)

USD598

VEC500-72
72V
150A
500A
200*190*58mm (3.2kg)

USD598
Model: PI-400/VEC --
FOC Controller Programming Kit

Easy Installation for PC/laptop
Easy USB Port Connection

Buy Now ($60)
---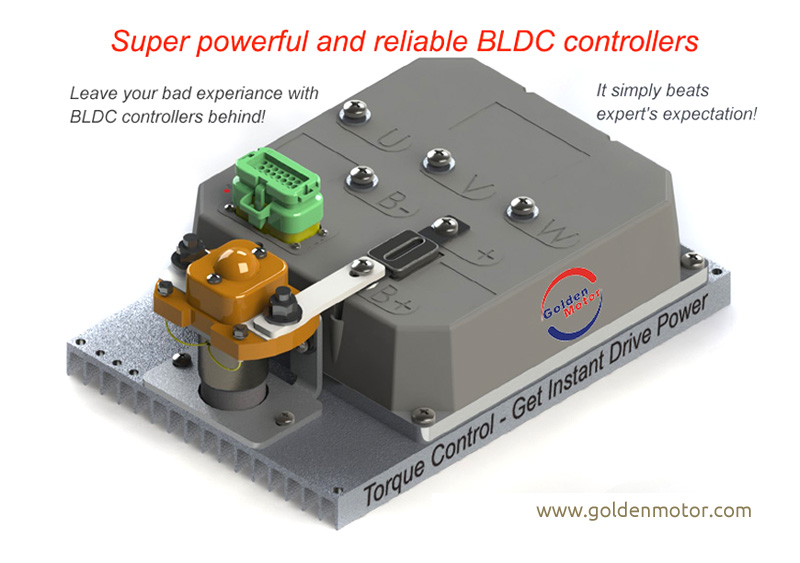 BLDC Motor Controllers (5KW - 30KW) for electric cars, motorcycles, golf carts, etc.
Most robust and reliable brushless motor controllers for electric cars, motorcycles, and motorboats.
Model: CA-201 -- HPC Controller Wiring Harness

23-pin Water-Resistent Connector
Dynamic Montoring Connector

Buy Now ($30)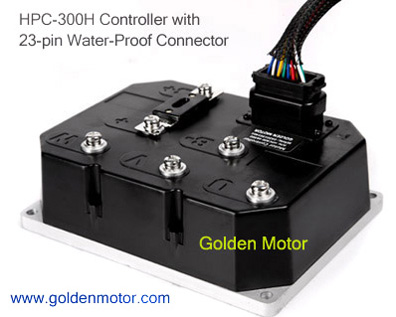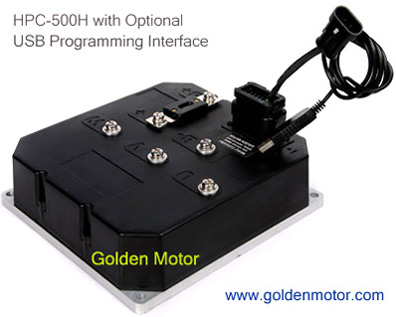 Model: PI-400 -- HPC Controller Programming Kit


Easy Installation for PC/laptop with Windows OS
Easy USB Port Connection
Setup Parameters without Power-on Controller
Monitor Motor Performance Dynamically

Buy Now ($80)
Product: DC Contactors


Output Voltage: 48V/72V/96V
Current: 200A,400A

48V200A ($43) 72V200A ($47) 96V200A ($54) 48V400A ($54) 72V400A ($58) 96V400A ($65)

Model: FSC-010 -- Foot Throttle

Output Voltage: 0-5V
Material: casted aluminium
Weight:0.9Kgs
Features: Water resistent

Buy Now ($49)
---
Brushless Dual-Mode Cruise Controller -- for Electric Bicycles, Scooters!

Magic!... It can drive your ebike even with failed motor hall sensors, throttle, breaker, or all of them failed together!
It acts as sensorless controller when your motor hall effect sensors fail!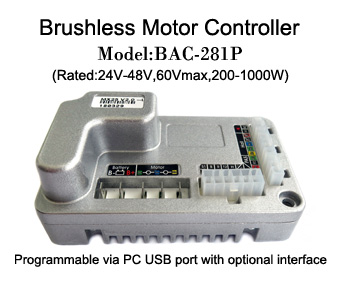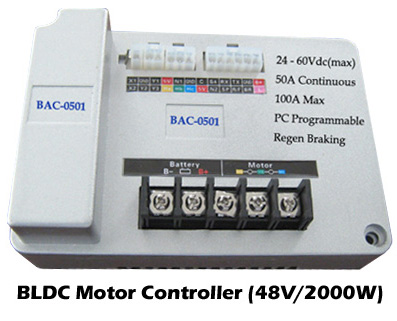 Special Features:

Programmable via PC to setup motor control parameters
Motor hall sensor failure redundency (Automatically switch to sensorless control mode)
Anti-theft alarm and wheel-locking by detection of vibration
True regenerative braking (only effective when you squeeze the hand brake)
Other failures redundency (Work with failed throttle and power breaker)
Work with multiple voltages: 24V, 36V and 48V with the same controller
Report failure components by beeps
Motor phase self detection and calibration
Support Forward and Reverse Control
Excessive Current Protection
Low Voltage Protection
High Reliability
Buy Sample (wholesale prices negotiable)
BAC-0281P
36V/50A
$59/set

BAC-0282P
48V/50A
$59/set

BAC-0501
48V/100A
$95/set

BAC-0283P
24V/50A
$59/set

PI-0200E
external
$33/set

PI-300I
internal
$33/set

...Credit cards

via PayPal...
Please provide your contact phone number for shipping company use!
---
Wheelchair Joystick Controller -- IM-50A



USD188 each (24V)


.....

.....

This innovative, stylish wheelchair joystick controller allows you to move the e-chair in any direction smoothly and instantly with its user friendly control panel. It drives dual wheelchair motor intelligently by programmed microchip. You can really feel your fingers empowered with this state of art technology!
All-in-One, programmable Controller
24Vdc/36Vdc, Maximum 50Amps
5 Speed Ranges
Regenerative Braking
Parking Brake Open Circuit Detection
Parking Brake Manual Release Microswitch Detection
Including all connectors to motors and charger
Exchangeable to other common joystick controllers
---
Brushless Joystick Controller (for dual brushless motors drive) -- IM-50B



USD255 each (24V)


This unique joystick controller drives dual BRUSHLESS motors intelligently by programmed microchip. This extends your wheelchair life up to 10 times longer than current brushed motor powered wheelchairs in the market.
All-in-One, programmable Controller
24Vdc, Maximum 50Amps
5 Speed Settings
Regenerative Braking
Parking Brake Open Circuit Detection
Parking Brake Manual Release Microswitch Detection
Including all connectors to motors and charger

www.goldenmotor.com