Electric Wheelchair Technology Breakthrough
Go Brushless Electric Wheelchair!
10x Longer Life, Super Light, Quick Foldable, 50% Battery Saving, Maintenance-Free!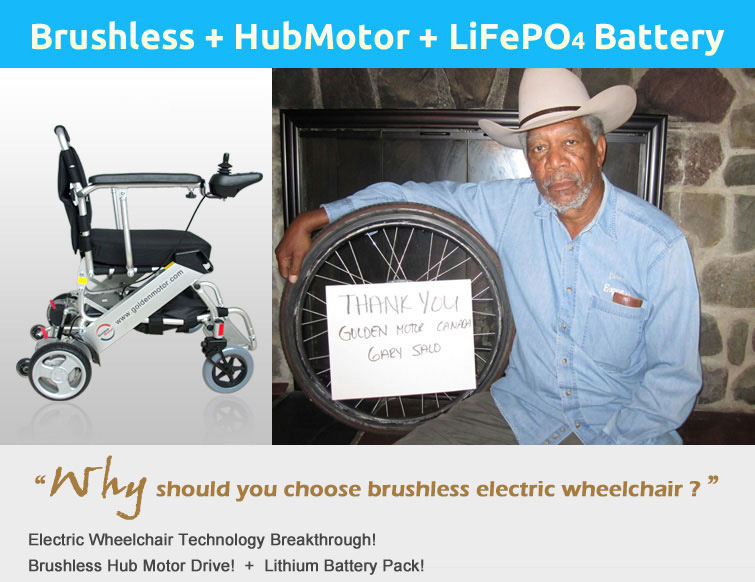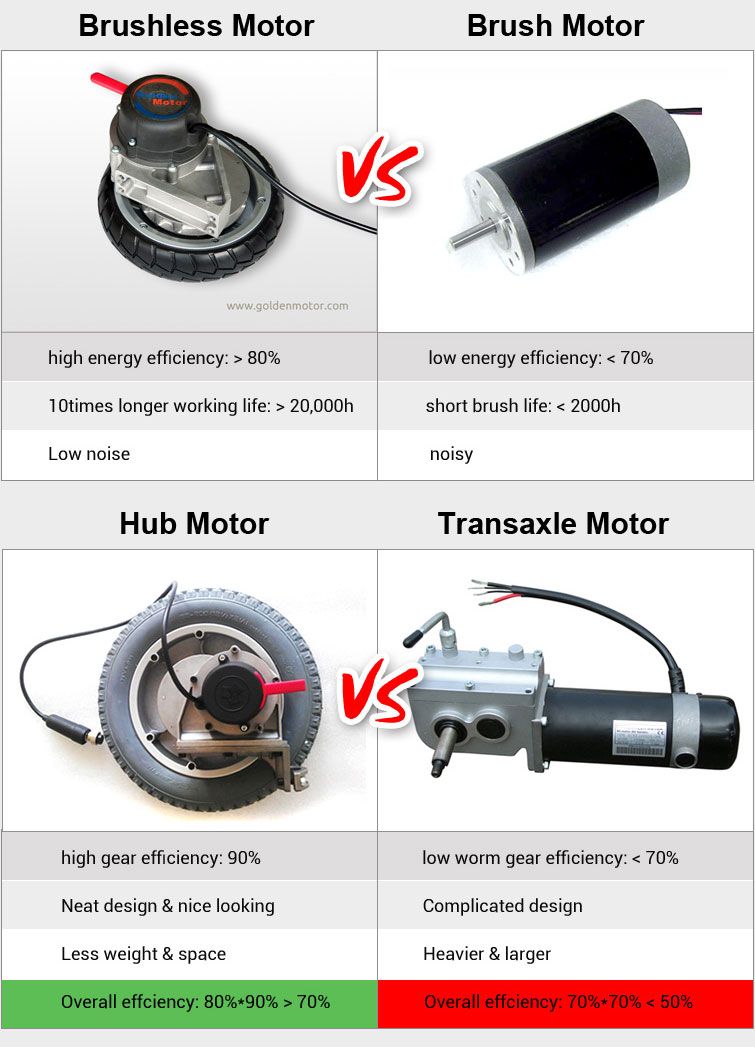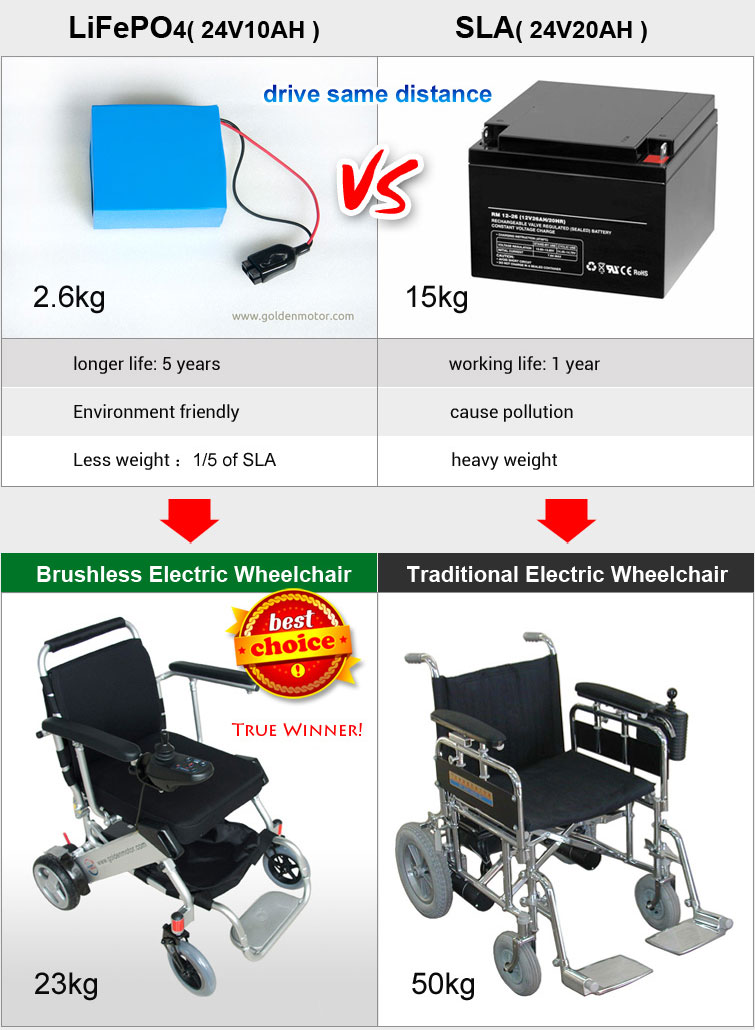 Customer's Experience about this innovative folding wheelchair
"I just recently purchased a PW-8F20 wheelchair and with the batteries arriving Tuesday I have been using it for the last 2 days. I have to congratulate Golden Motors on the design of this chair. It is brilliant in the way it folds so easily, so small and light, perfect for travel and strong enough for many everyday uses. You can say that I am a very pleased customer." -- Greg Burge, USA
It is extremely convenient due to its compact size and ability to be folded for transport in just about any vehicle: a Car, Truck, SUV. It is also convenient enough to take on an Train, Bus, Cruise Ship or Airplane. The chair can go just about anywhere - Indoors or Outdoors.

5-Second folding demo video
(better view in full screen)
full demo video
(better view in full screen)
Special Introductory Price: USD2180 (RRP: USD2950)
24V10AH LiFePO4 battery and charger included
World Wide 7 Days Air Delivery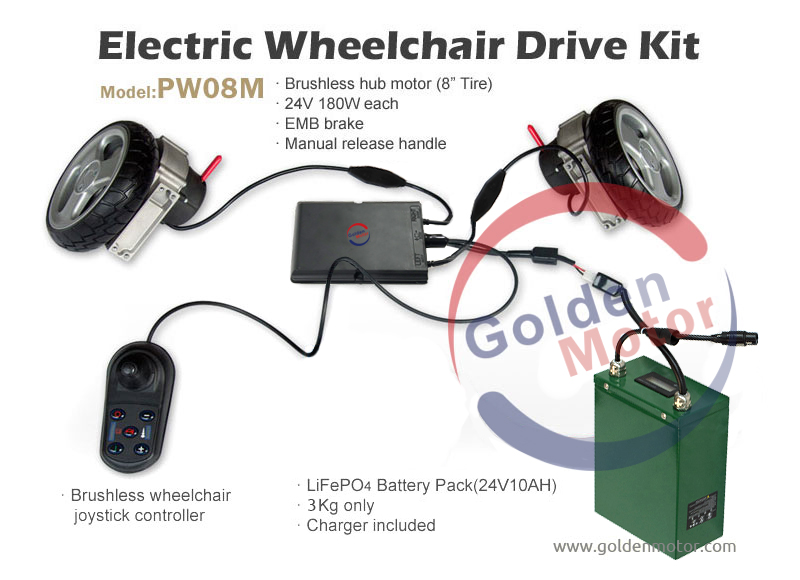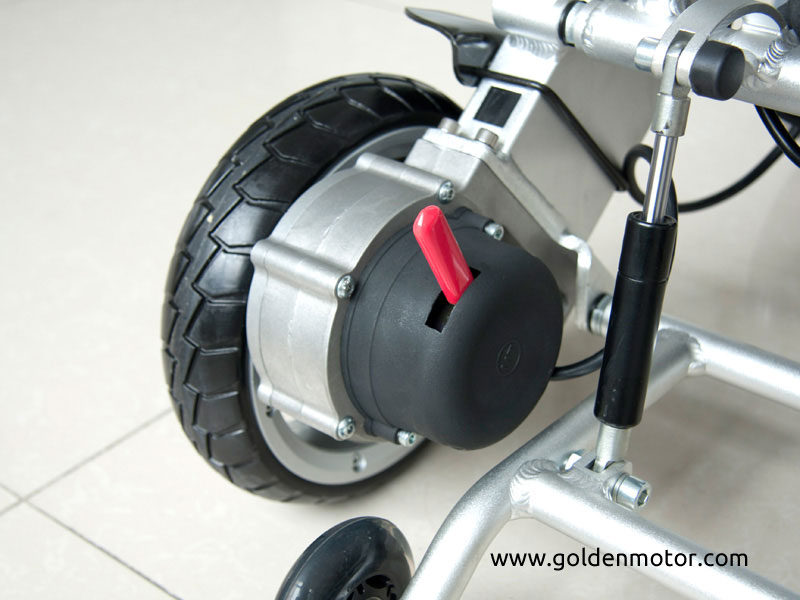 Left Side Motor

Buy Now ($188)

Right Side Motor

Buy Now ($188)

Brushless Joystick Controller

Buy Now ($245)
12" Brushless Wheelchair Drive Kit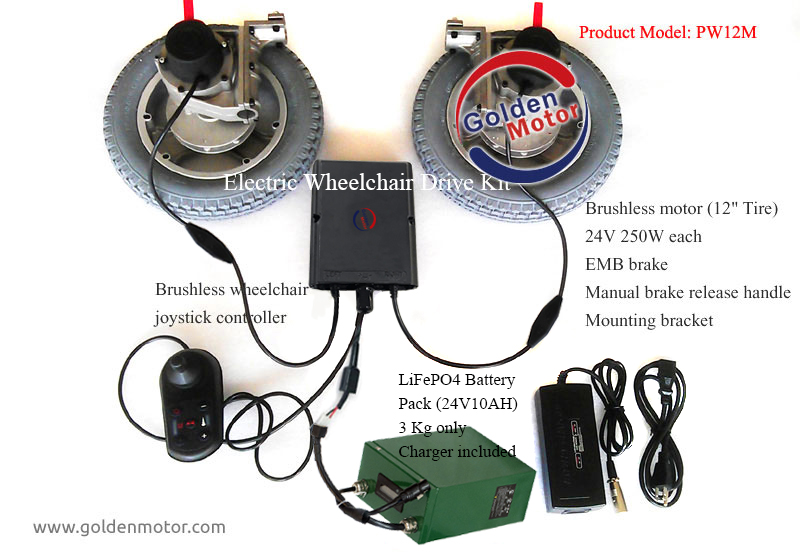 Left Side Motor

Buy Now ($198)

Right Side Motor

Buy Now ($198)





Brushless Joystick Controller

Buy Now ($245)
Order Spare Battery Pack and Charger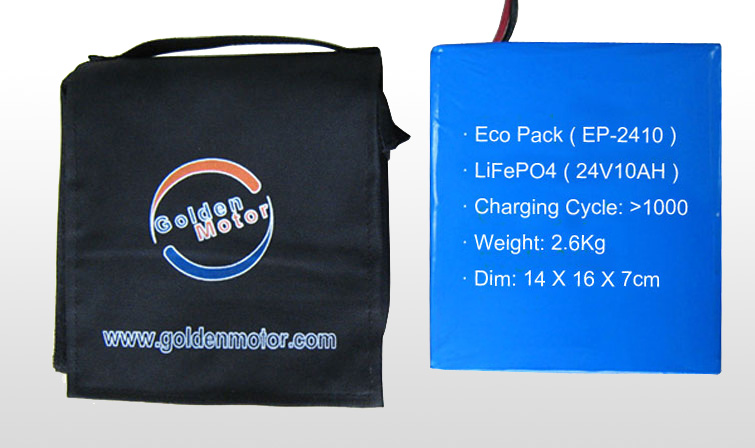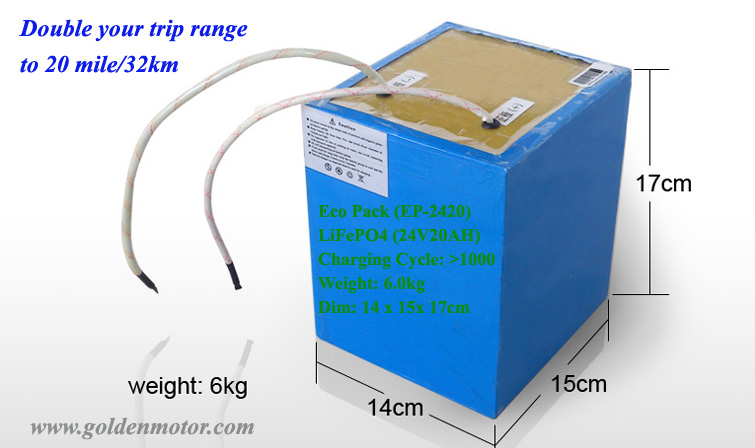 Eco-Pack with BMS and Universal Charger Included
| | | | |
| --- | --- | --- | --- |
| EP-2410F( 24V/10AH ) $185/set | | EP-2420F( 24V/20AH ) $358/set | |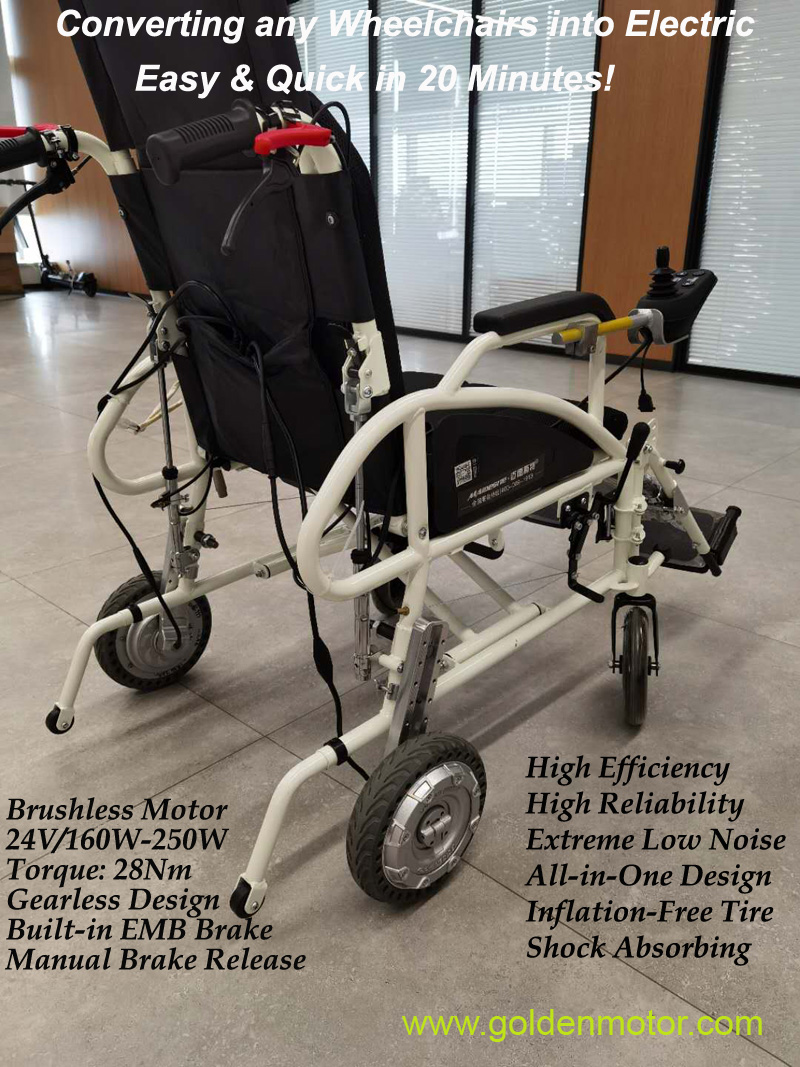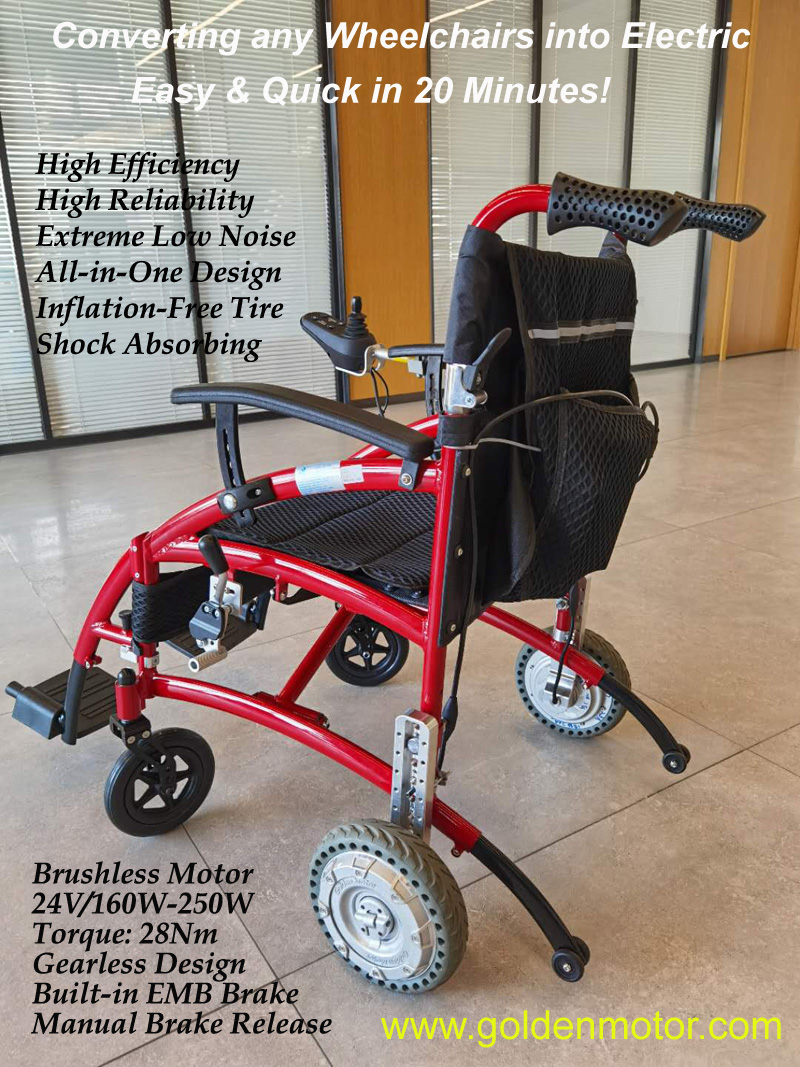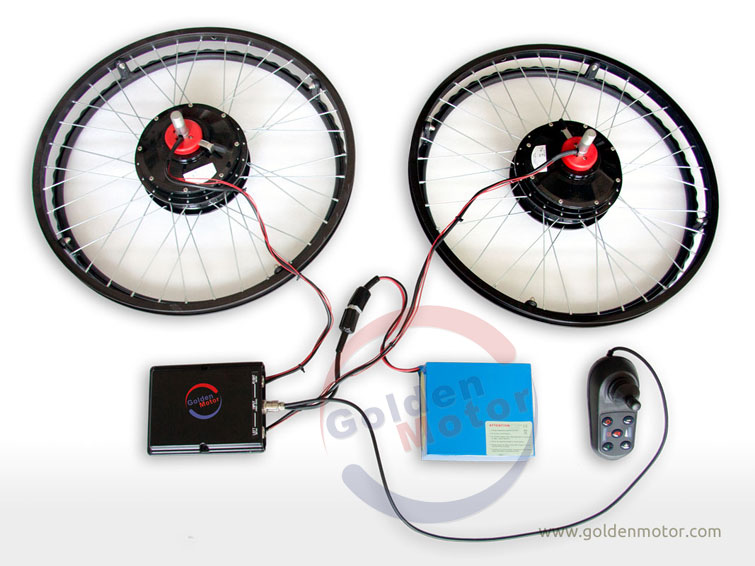 Brushless Joystick Controller (for dual brushless motors)-IM-50B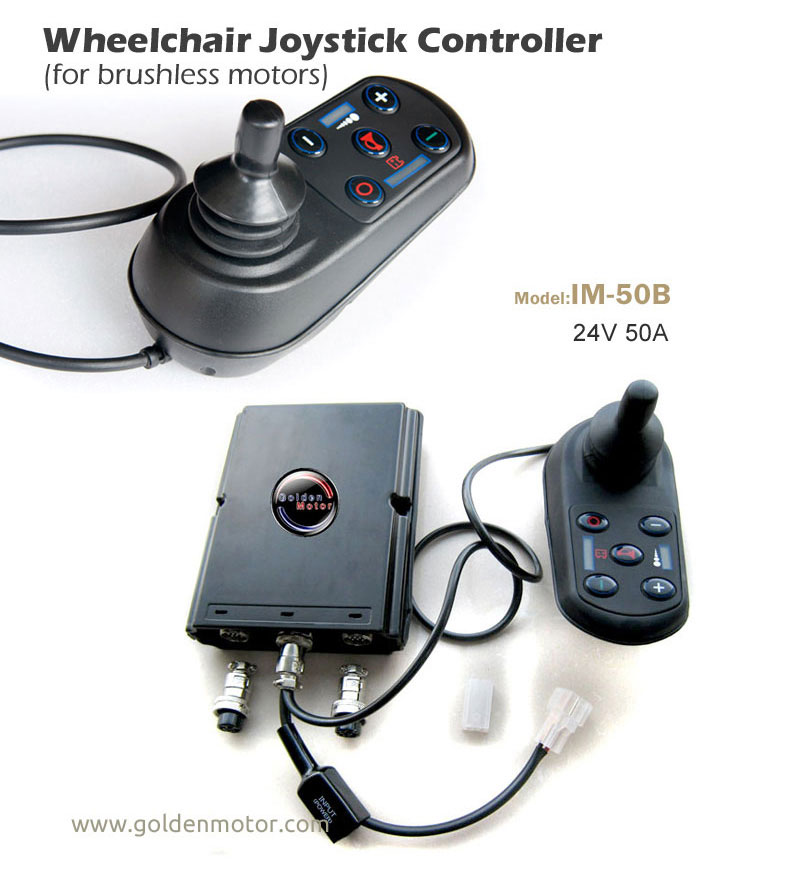 This unique joystick controller drives dual BRUSHLESS motors intelligently by programmed microchip. This extends your wheelchair life up to 10 times longer than current brushed motor powered wheelchairs in the market.
All-in-One, programmable Controller
24Vdc, Maximum 50Amps
5 Speed Settings
Regenerative Braking
Parking Brake Open Circuit Detection
Parking Brake Manual Release Microswitch Detection
Including all connectors to motors and charger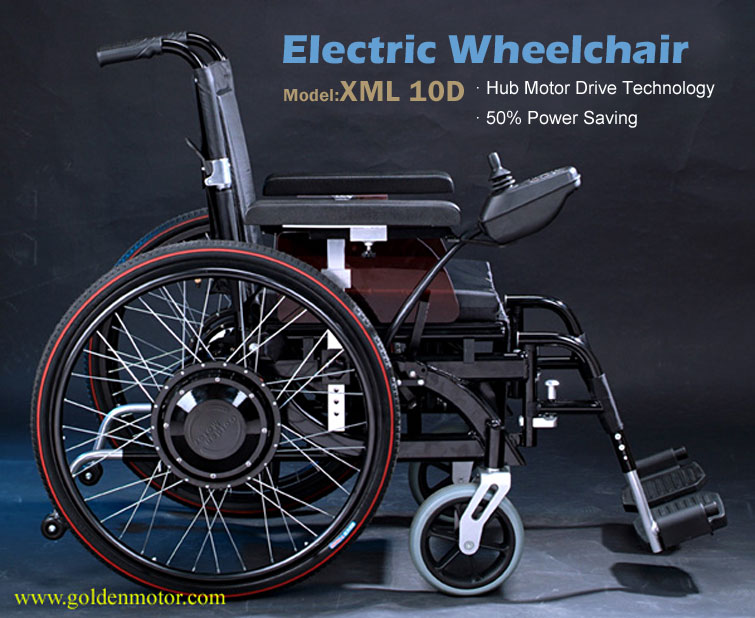 Only Acheived by Our Efficient, All-in-One Wheelchair Hub Motors!
Foldable Power Wheelchairs -
eXtra Miles Series

CE Certificates: EMC LVD MD


If you are involved with high performance EV applications, there is an important motor technology which is pancake motor (or disc shaped motor) from GoldenMotor. What separates the pancake motor from conventional axial motor is its slotless disc armature. This difference enables pancake motors to deliver a level of performance which is not attainable with conventional ironcore motor designs used by most traditional power wheelchairs in today's market. In addition to performance advantages, pancake motors have a unique flat & compact shape that is best fit for motorized wheel applications, such as power wheelchairs, power scooters. The unique advantages that the slotless pancake motor technology has brought include:


Very long operating life
Absolutely zero cogging for ultra smooth velocity & torque even at slow speeds
Low armature mass for high accelerations and decelerations
Low inductance for almost instantaneous torque
Very high peak torques for rapid accelerations
Flat motor profile for extremely compact size
Stamped winding technology for very high reliability and low cost
Low Electrical Noise

Golden Motor Technology Co Ltd just launched its innovative power wheelchairs equiped with above mentioned pancake motors. They come with following unbeatable features:


Super integrated motorized wheel drive -- Make your wheelchair Simple, Neat and Light
Higher efficiency with our stamped pancake motor technology -- Drive you eXtra Miles
Double trip range: Up to 25Km with only 24V/20AH SLA pack (180x76x168mm - 12V20AH each)
Lowest power consumption: Less than 4Amps at speed of 4MPH at level
Two-motor combined output power: 400W/24V or 600W/36V with the same set of motors
Built-in electric-magnetic parking brake (EMB) and manual release handle
Climbing up and parking with 110Kg load at 12 degree slope easily
Lightest weight (30Kgs w/o battery, 44Kgs with battery)
Maintenance-free puncturable tyre
High load capacity (180kgs maximum)
State of art wheelchair joystick controller
Downloads: Motor Performance(PDF) : Wheel Dimensions(PDF) : Mounting Drawing(DWG)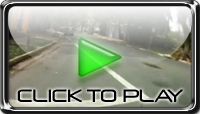 Test Video of XML-08D Power Wheelchair (13MB)

Wheelchair Joystick Controller (for brushed motors)-IM-50A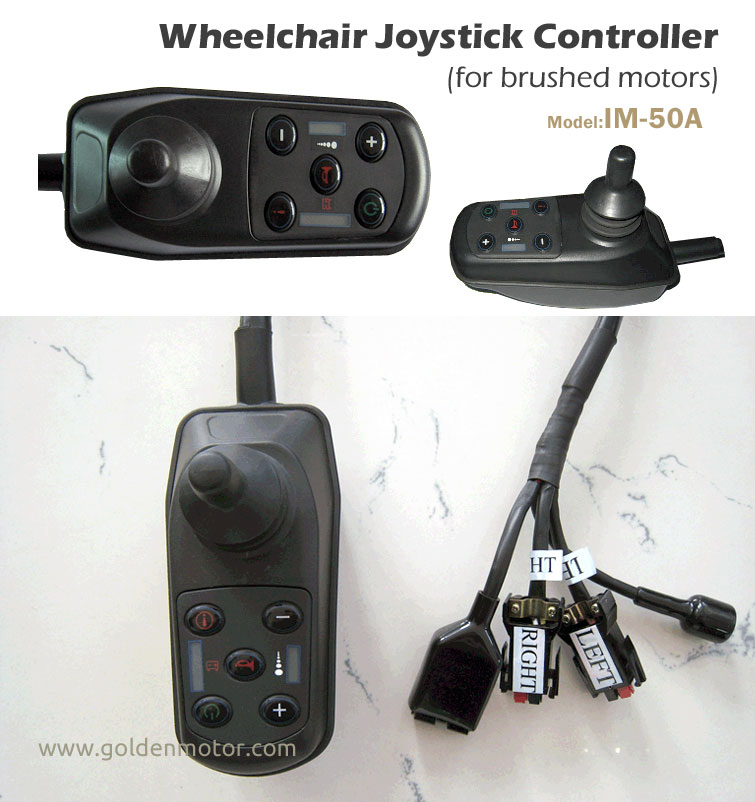 IM50A (24V) USD158 each

.....

.....
This innovative, stylish wheelchair joystick controller allows you to move the e-chair in any direction smoothly and instantly with its user friendly control panel. It drives dual wheelchair motor intelligently by programmed microchip. You can really feel your fingers empowered with this state of art technology!


All-in-One, programmable Controller
24Vdc/36Vdc, Maximum 50Amps
5 Speed Settings
Regenerative Braking
Parking Brake Open Circuit Detection
Parking Brake Manual Release Microswitch Detection
Including all connectors to motors and charger
Exchangeable to other common joystick controllers
Online User Guide (PDF)

Power Wheelchair Programmable Device - ZD-08

This device is for OEM manufacturers or distributors to re-program power wheelchair controller parameters for special application needs. It is compatible for both IM-50A and IM-50B power wheelchair controllers.

Programmable Parameters:

1. Motor acceleration
2. Motor deceleration
3. Steering (turning) acceleration
4. Turning dece